Measuring Drapes for a Wood Pole and rings
This article describes the measuring process for draperies on wood poles using rings where the rod will be installed after the drapes are made or purchased.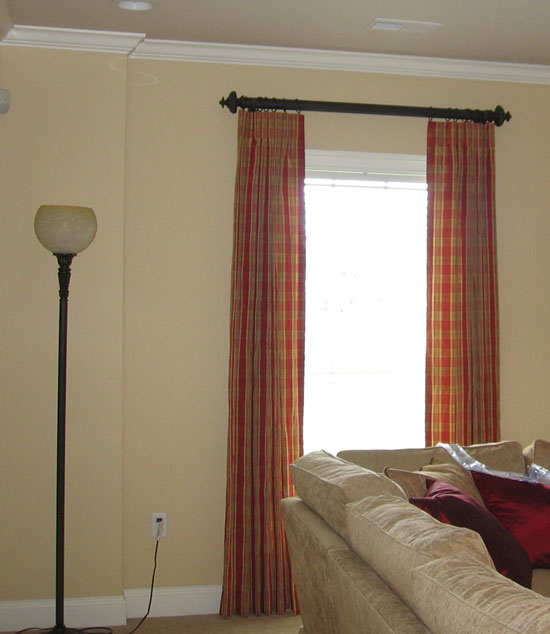 In most cases measuring for drapes to be installed on a wood pole is a pretty simple process. You may find it helpful to review measuring form we have made available for your use. How to measure for pleated draperies
Let's discuss the easy jobs first and then we will cover a few of the potential problem installs. A single window with no obstructions to either side is about as simple as it gets.
With any wood pole installation your rod face should extend a minimum of 2" past the window casing or opening if it is a frameless window. Of this two inches, one inch is consumed by the bracket, 1/4" may be consumed by the finial base and 1/2-3/4" will be consumed by the ring that goes to the outside of each bracket. Many people like to see a little bit of rod on each side of the last ring so you may want to allow 3" on each side.
No center support will be required for a single window so any length that covers the top of the casing is okay but we suggest that you always be in the habit of adding 3" to the top of casing to the floor measurement because your drapes need to be that much longer if a center support is required. Also raising the rod gives the appearance of raising the ceiling.
Do always keep in mind that your choice of finials can add as little as 2 1/2" to as much as 7" to the width of the installed pole on each side, so you need to check carefully where the nearest wall or obstruction is to the left and right of the window.
A window where one side is located close to a wall is the most common problem encountered. Builder's just love building them this way for some perverted reason. If the casing to wall measurement is less than 4" the best choice usually is to just not use a finial on that side and extend the rod the same distance on the other side.
No room on either side such as is found in a dormer window may require running the rod wall-wall using socket brackets instead of the traditional wall mount.
Now that you know your rod face (width) and finished length you can order your panels. Before you can do that you have to decide if you want panels that can fully close or do you just want some decorative panels at the sides of the window. Side panels are easy, usually a width or width and half on each side depending on the width of the window.
Panels that fully close require you to adjust your numbers a little since you need to allow for the returns (the fabric that folds back to the wall) on each side and a couple of inches for an overlap. To your total rod width add 12 inches. This is your total pleated width and is also the width you should look for on the package if you are shopping for ready-mades.
Do keep in mind that draperies on a wood pole never fully overlap like draperies on a traverse rod. So if this is a potential issue you may wish to consider other options.
Also panels that are meant to be opened and closed on a regular basis should include some batons (metal or fiberglass sticks that attach to the rings) so that the oil from your hands does not stain the fabric.
---
More Articles in: Window Treatments
Click or touch anywhere on the text to view article.
Are Interior Shutters A Good Choice for You?
First things first: interior shutters are not blinds! Blinds can also cover the windows in your home, but they're usually flipped open-and-shut, and d................

---
Installing Blinds
This article applies to all 1-2" wood, faux or metal blinds whether they are custom ordered or ready-made product. Most of it is applicable to pleated................

---
How to Convert a Traverse rod to One-way draw
Converting a two way draw traverse rod to a one draw is a very simple process. A rod has a Overlap carrier and an under lap carrier. The names make se................

---
Measuring For Blinds
Measuring for your blinds is the most important step in the entire process. You need accurate measurements to order the blinds and receive the correct................

---
Choosing a Mounting Style for Blinds or Shades
The very first step in purchasing or ordering any blind or shade product is to determine how it will be mounted so that you can take the proper measur................

---
How to Measure for Pleated Draperies
This article is titled "How to Measure for Pleated Draperies" but the same basic rules apply anytime you are measuring for draperies, curtains, valenc................

---
How to Install a Traverse Rod Part One
This is part one of a two part illustrated article that will show you everything you need to know in order to install a traverse rod.................

---
How to Install a Traverse Rod Part Two
This is part two of a two part illustrated article that will show you everything you need to know in order to install a traverse rod.................

---
Installing Window Treatments on Masonry Walls
Installing window treatments or anything else for that matter on masonry walls present a much different challenge than a normal installation. Masonry ................

---
Materials for Installing Window Treatments
The most frustrating part of working around the home is stopping for the multiple trips back to the hardware store. Stocking up with enough of everyt................

---